Upcoming Events
Spring 2020
Stay connected and learn more about upcoming workshops and opportunities by following @BeWellTU on Twitter, Instagram, and Facebook.
---
Zoom Sessions & Opportunities
We are still available remotely to support you! Explore ways to find balance, calm, and community with our upcoming Zoom sessions!
Exploring Stress Relief: Tips for Coping 
Tuesday, March 31st 2:00-2:30pm
Coping mechanisms can help us get through stressful situations. This session will give some insight into the different types of coping mechanisms and offer strategies to integrate coping skills into your daily practice. 
Self-Care & New Routines: Strategies for Mental Well-being
Thursday, April 2nd 11:30am-12:00pm
Shifting to a new way of learning and adapting to new routines can be challenging. This brief session will give students some simple ways to take care of themselves to support their mental well-being.
Building A Safer Nest - SAAM National Day of Action
Monday, April 6th 1:30-2:00pm
Explore some of the misconceptions that can get in the way of effectively supporting someone who has experienced sexual assault and harassment.
SAAM Lunchtime Activism Break
Tuesday, April 7th 1:15-1:45pm
This brief session will offer a guided practice for building skills in perspective-taking and being of support to someone else. These skills will serve us in caring for ourselves and others.
Alcohol 101
Wednesday, April 8th 3:00-3:30pm
Drinking alcohol is common among college students, and this program is designed to help students explore why they choose to (or not to) drink. Through an interactive session, students will learn about ways to keep themselves and their fellow Owls safe when alcohol is in the mix.
Tips for More Restful Sleep
Thursday, April 9th 2:30-3:00pm
Sleep is vitally important for physical and mental well-being. Learn ways to create routines and get restful sleep.
Cultivating Healthy Sexuality
Monday, April 13th 11:00-11:30am 
College years often serve as a time for identity exploration. This workshop covers a holistic view of the role sexuality plays in our lived experiences. Participants will explore ways to cultivate healthy sexuality and how it connects to self-care.
SAAM Lunchtime Activism Break
Wednesday, April 15th 2:00-2:30pm
This brief session will offer space for participants to explore their personal values and how those values support a community of care.
Self-Care & Climate Action: A Conversation about our Collective Well-Being
Thursday, April 16th 3:30-4:15pm
The Office of Sustainability and the Wellness Resource Center are joining together to facilitate a conversation about the intersection between environmental justice and collective well-being. Student leaders will share their climate action journeys and ways they engage in self-care during times of uncertainty and global worry. Space will be offered for participants to generate ways to cultivate hope through action, as well as connect climate action with self-care practice
SAAM Lunchtime Activism Break
Tuesday, April 21st 12:30-1:00pm
Effective messaging leads to effective conversations about sexual assault prevention! This brief session will offer space to learn more about effective social change messaging and speaking our values.
SAAM Activism Roundtable: A Conversation with Temple Student Organizers
Wednesday, April 22nd 1:00-1:45pm
Working collectively to create social change means different things to different people. Join us for a conversation with Temple University student leaders on what activism means to them, how others can help, and how they envision a world free of sexual assault and harassment.
Self-Care Strategies for Well-Being: Finals Edition
Monday, April 27th 1:00-1:45pm
Explore skills and routines that can support well-being during finals season.
Staying Present: Mindfulness to Manage Stress
Tuesday, April 28th 3:00-3:30pm
Mindfulness can be a helpful skill to manage stress and cultivate calm. This session will provide some of the basics about mindfulness and an opportunity to practice together.
You can also join us on Instagram Live 

@BeWellTU

for:
Sleep Tips 
Friday, April 3rd 2:00-2:15pm
Quick tips about how to create routines around sleep and ideas for winding down.
Balance & Grounding Mindfulness Practice with the WRC & Tuttleman
Tuesday, April 14th 10:30-10:45am
For Sexual Assault Awareness Month this week we are focusing on self-care. All are welcome to this soothing grounding practice, as it will be helpful in times of stress, uncertainty, or overwhelm.
Cannabis Facts Chat
Monday, April 20th 11:00-11:20am
This session will focus on providing accurate information about cannabis and its long term effects. This session will allow for real time Q & A so bring your questions with you.
Guided Mindfulness Practice
Monday, May 4th 1:00-1:30pm
Practice grounding ourselves by paying attention to sensations and experiences in the present moment.
 
Check back regularly for updates! Don't forget to follow us on social media -  @BeWellTU on Instagram and Twitter!
---
Campus Community Events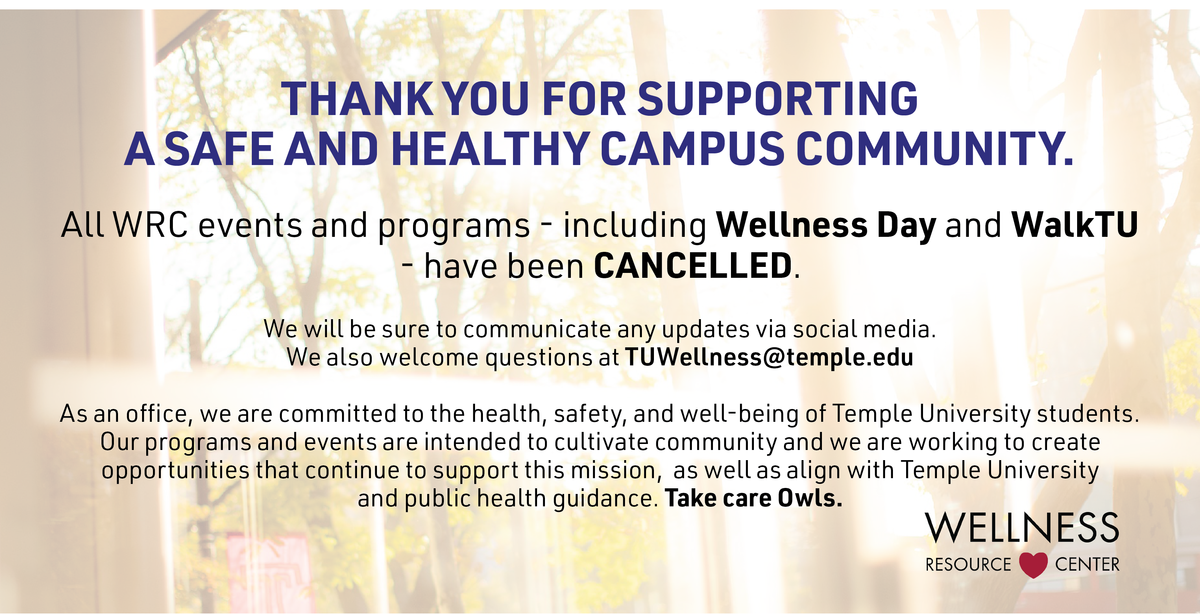 All in-person WRC events and programs - including Wellness Day and WalkTU - have been cancelled. 
We will be sure to communicate any updates via social media. We also welcome questions at TUWellness@temple.edu
As an office, we are committed to the health, safety, and well-being of Temple University students. Our programs and events are intended to cultivate community and we are working to create opportunities that continue to support this mission,  as well as align with Temple University and public health guidance. Take care Owls.
CANCELLED:
Wellness Day - March 17th
Fourth Annual WalkTU - March 25th
TU Test Fest - April 2nd
How to Support A Survivor Panel - April 7th
Clothesline Project - April 9th from 11:00am-2:00pm
---
Past Events - Spring 2020
February
Mindfulness Basics - Tuesday, February 4th
Sexessful Conversations - Monday, February 10th
Question, Persuade, Refer (QPR): Suicide Prevention Training - Friday, February 7th
LoveTU - Thursday, February 13th
Alcohol 101 - Thursday, February 13th 
Healthy Owls Jeopardy - Monday, February 17th 
We ♥ Healthy Relationships - Tuesday, February 18th
Body Kindness: A Workshop about Body Image and Sexuality - Wednesday, February 26th
Cultivating Healthy Sexuality - Friday, February 28th 
March
Alcohol & Community - STARS Credit - Monday, March 9th
Sex Jeopardy - STARS Credit - Monday, March 9th
Staying Present: Using Mindfulness to Manage Stress- Thursday, March 26th