Upcoming Events
Nourish to Flourish!
Check out pre-recorded offerings along the righthand side of this page. →
Explore ways to find balance, calm, and community with our upcoming opportunities! 
Use this link for Wellness Resource Center Zoom sessions [opens in new tab]
Please note that you must be logged into Zoom through your Temple provided account to participate. 
All are welcome. For questions or requests regarding access and accommodations, please contact TUWellness@temple.edu in advance of a program.
Stay connected and learn more about upcoming workshops and opportunities by following @BeWellTU on Twitter [URL], Instagram [URL], and Facebook [URL].
 
---

August 2022
We're excited to be a part of Temple's Weeks of Welcome - check out ways to connect with us in the coming weeks!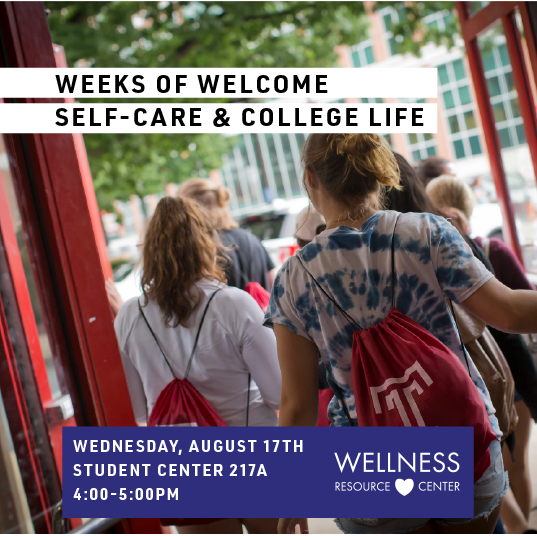 Self-Care & College Life
Wednesday, August 17th at 4:00 PM | Student Center, Rm 217A
Balancing college life and taking care of your well-being can be challenging. This program will help students explore what self-care means, how to incorporate it into daily routines, and ways to use in-the-moment stress reduction techniques.

Your Mental Health Matters: Exploring Campus Well-Being Resources
Tuesday, August 30th at 3:30 PM | Student Center, Rm 217B
Just as mental health includes a continuum of experiences, there are a range of resources available to support students' well-being. Learn about key campus services and offices working to promote well-being, what they offer, and how to access them.

Save the Date - September 2022

Shed Some Light
Wednesday, September 7th at 11:30 AM

Question, Persuade, Refer (QPR)
Thursday, September 8th at 3:00 PM

Staying Present: Using Mindfulness to Manage Stress
Monday, September 19th at 12:30 PM

Self-Care Fair
Tuesday, September 20th at 1 PM

Everything You Didn't Learn in High School Sex Ed (But Hoped To)
Thursday, September 29th at 4 PM

Be sure to stay connected on social media for resources, information, and updates @BeWellTU