Upcoming Events
Fall 2020
Stay connected and learn more about upcoming workshops and opportunities by following @BeWellTU on Twitter, Instagram, and Facebook.
---
Explore ways to find balance, calm, and community with our upcoming virtual opportunities!
Use this link for Wellness Resource Center Zoom sessions
Please note that you must be logged into Zoom through your Temple provided account to participate. For questions regarding access and accommodation, please contact TUWellness@temple.edu in advance of the program.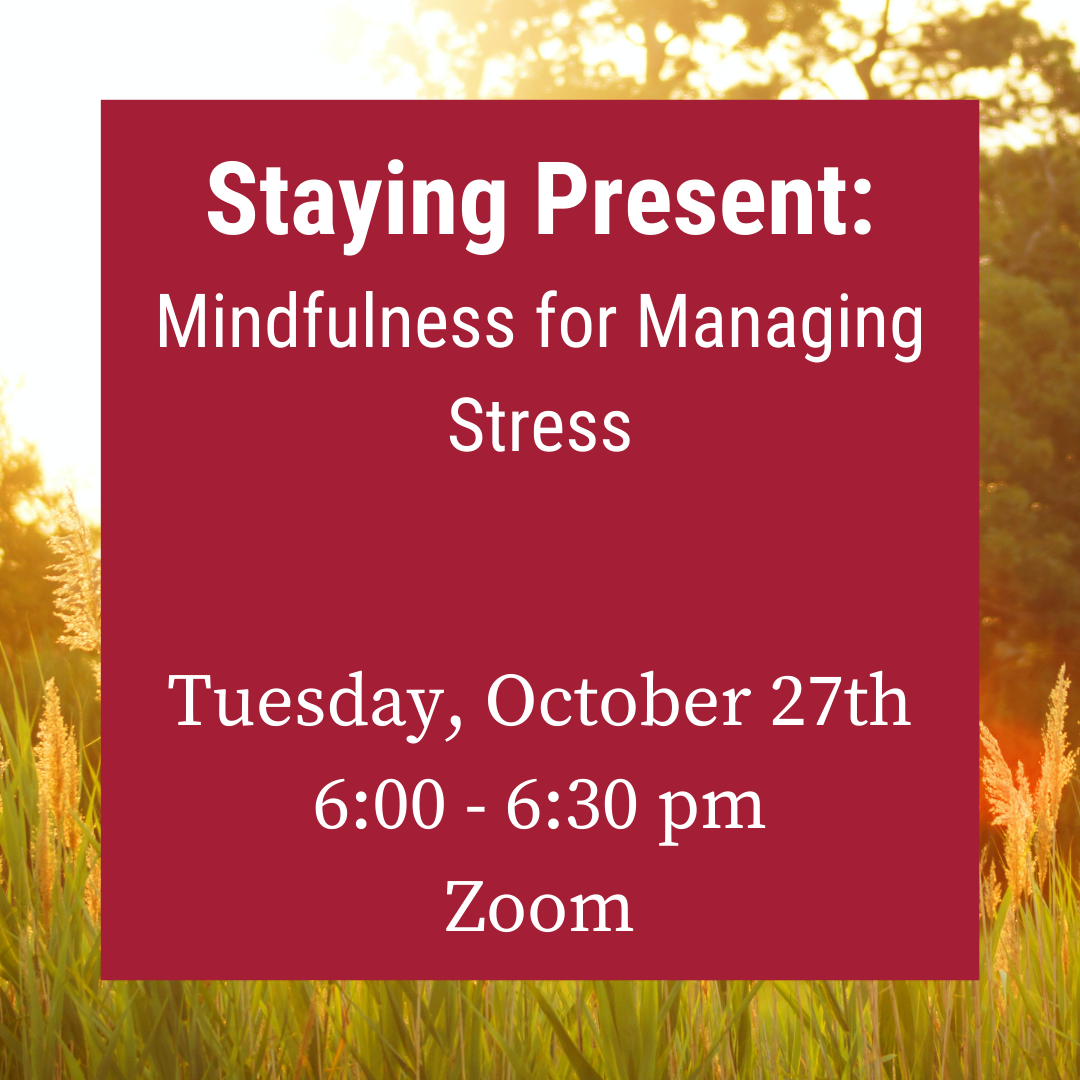 Staying Present: Mindfulness for Managing Stress
Tuesday, October 27th 6:00-6:30pm
Join us on Zoom
Learn how mindfulness and related skills can help manage stress and invite calm. Guided activities will be offered as an opportunity to practice these skills.
Writing for Self-Care & Social Change: A Virtual Writing Workshop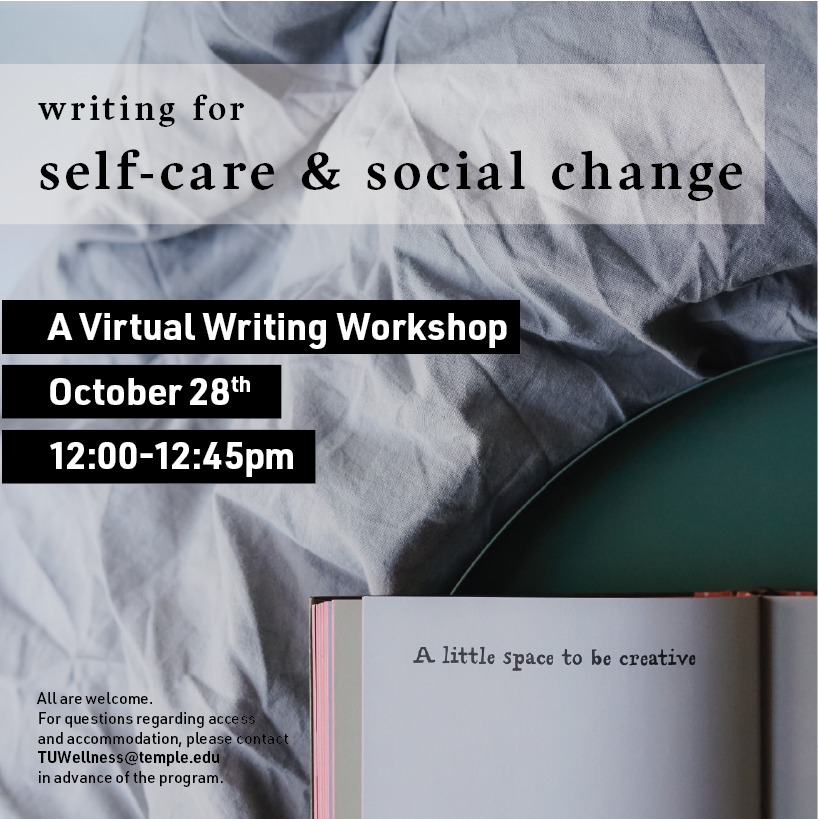 Wednesday, October 28th 12:00-12:45pm
Join us on Zoom
Care and creativity are important skills in the collective work of interpersonal violence prevention. This workshop will be a space to explore a few journaling or writing tools to help us find motivation and well-being. Attendees do not need to have a history or share experiences with interpersonal violence.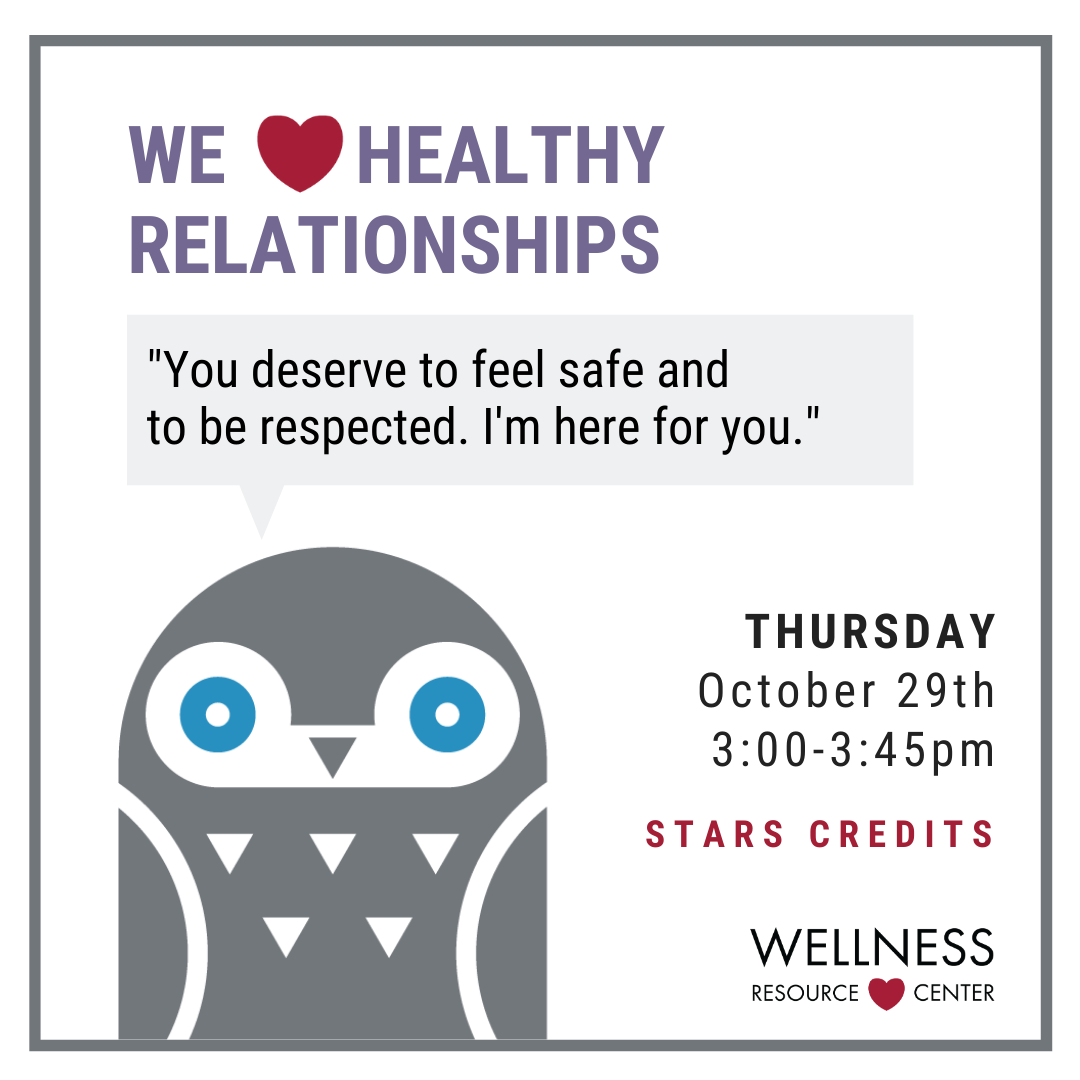 We HEART Healthy Relationships
Thursday, October 29th 3:00-3:45pm
Join us on Zoom
Happiness in personal relationships can help us cope with challenges easier, feel less stressed, and even improve our physical health! This workshop will offer participants strategies for cultivating relationships that make them happy. Facilitators will offer simple ways to infuse wellness in communication and problem-solving. STARS credit available.
Halloween Wellness Game Night with Main Campus Program Board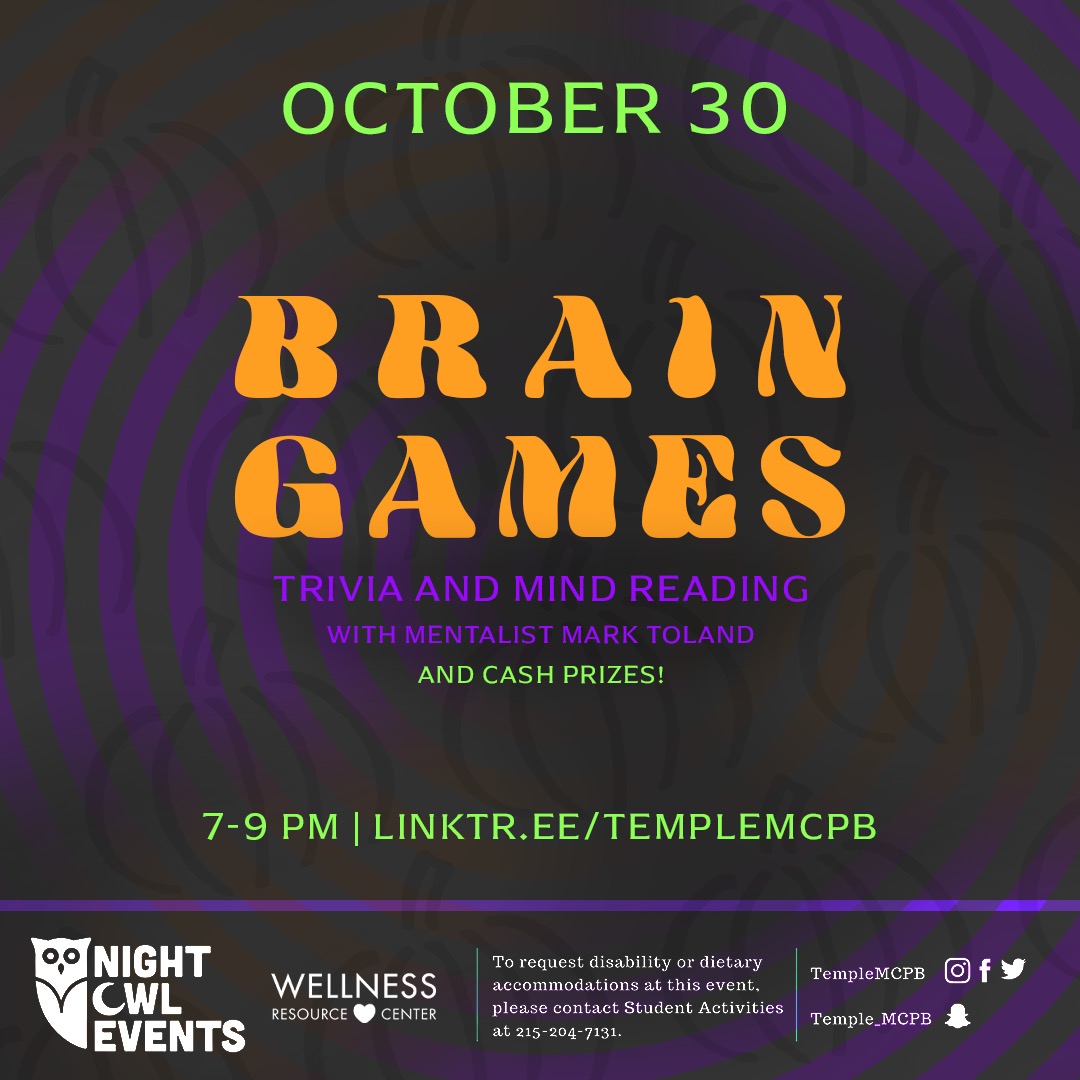 Friday, October 30th at 7:00pm
Come out and spend Friday night with the WRC & MCPB! Starting at 7PM we will be hosting Alcohol Education Jeopardy. We have plenty of prizes - including Amazing gift cards.  Following Jeopardy, we invite folks to join us for Mark Toland - the mind reader! Here's the link to join us (*different than our usual programming link!)
Sexual Health Panel / Q& A
Monday, November 2nd 12:00-12:45pm
Join us on Zoom
Have questions about available sexual health resources? Or how COVID-19 is changing the way folks navigate sex? Join the WRC and community resources for a panel discussion answering these questions and more.
Showing Up Authentically on Dating Apps
Tuesday, November 3rd 3:30-4:15pm
Join us on IG Live
Online dating has become a common way for folks to initiate romantic connections. Whether in person or online, we can show up authentically to our dating experiences.
Liberating Black Womxn's Sexuality
Thursday, November 5th 3:30-4:15pm
Join us on Zoom
Join the WRC and IDEAL for a dialogue centering black womxn's experiences of sexuality.
Save the Date!
Alcohol & Community Impact- Monday, November 9th 11:00-11:30am
Owls Stop Stigma- Tuesday, November 10th 4:00-4:45pm
QPR Suicide Prevention Gatekeeper Training- Friday, November 13th 11:00am-12:30pm
How Can We UNLearn What We've Been Taught? Exploring Gender & Sexuality- Tuesday, November 17th 5:30-6:15pm
Staying Present: Mindfulness for Managing Stress- Wednesday, November 18th 2:00-2:45
World AIDS Day Chat with Camp DreamCatcher- Monday, November 30th 1:30-1:45pm
Sex Jeopardy- Monday, November 30th 4:00-4:45pm
Media Messages about Alcohol- Monday, December 7th 2:00-2:30pm
Strategies for In-The-Moment Stress Reduction- Friday, December 11th 1:00-1:15pm
Staying Present: Mindfulness for Managing Finals Stress- Monday, December 14th 4:00-4:30pm