Upcoming Events
Fall 2020
Stay connected and learn more about upcoming workshops and opportunities by following @BeWellTU on Twitter, Instagram, and Facebook.
---
Explore ways to find balance, calm, and community with our upcoming virtual opportunities!
Use this link for Wellness Resource Center Zoom sessions
Please note that you must be logged into Zoom through your Temple provided account to participate. For questions regarding access and accommodation, please contact TUWellness@temple.edu in advance of the program
Sexual Assault Prevention Summit
*UPDATE 9/10/20* To create a space where folks can be present and find connection, we'll be postponing next week's Summit to the Spring semester. Stay tuned for future opportunities and take care Owls!
Owl About Stress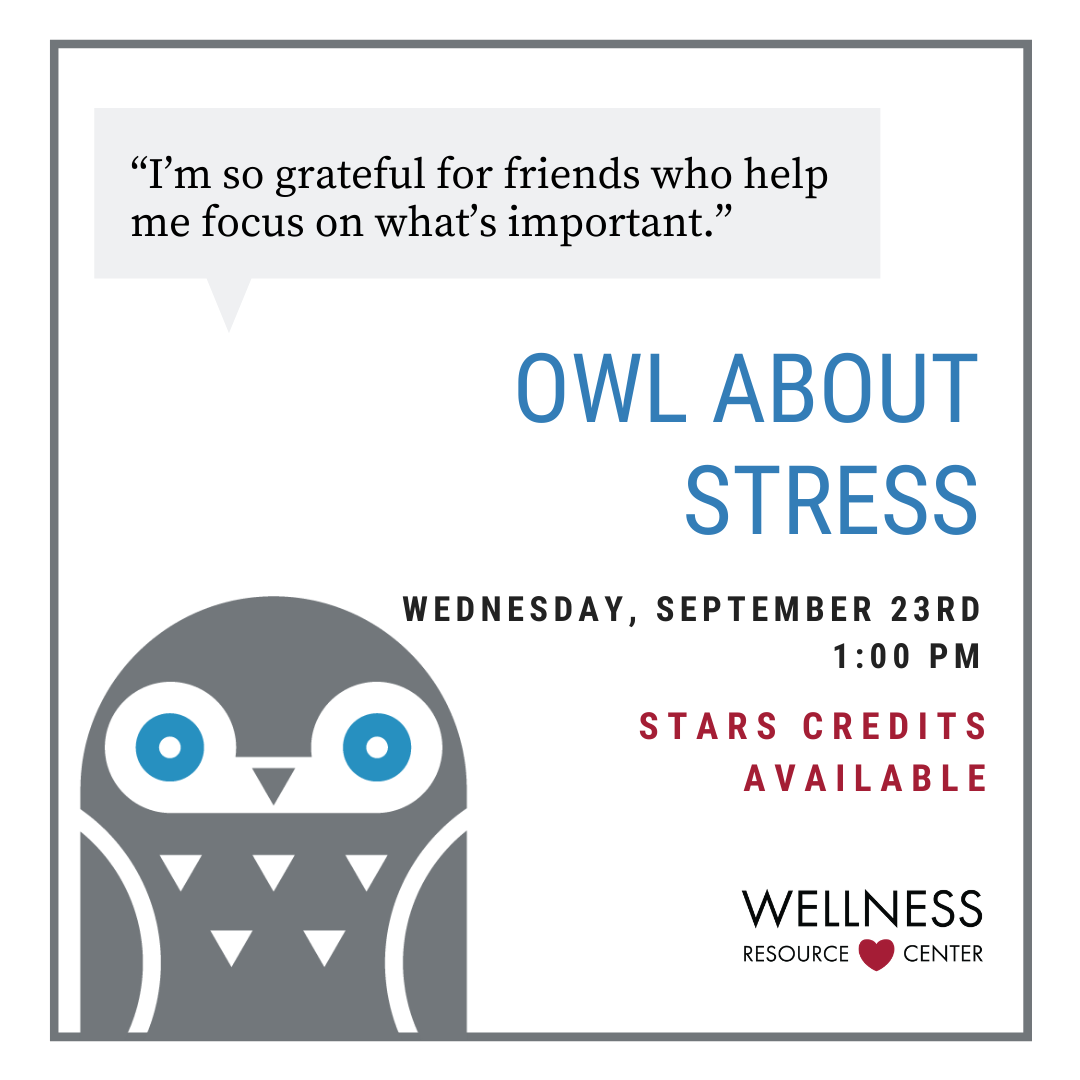 Wednesday, September 23rd 1:00-1:45pm
Join us on Zoom
Reframe how you think about stress and learn about strategies for self-care! This program will offer a simple framework for understanding stress along with clear ways that students can focus on what's within their control.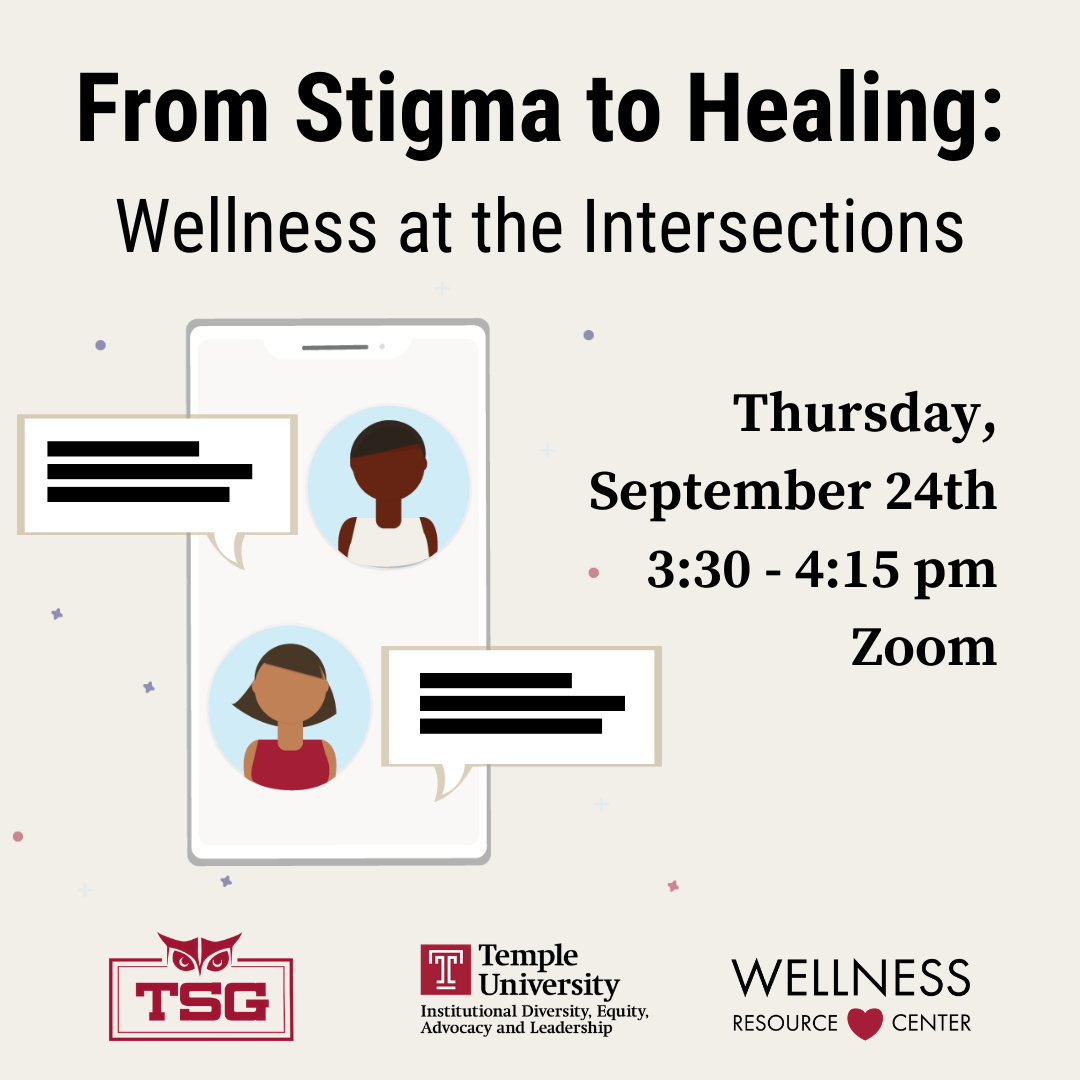 From Stigma to Healing: Wellness at the Intersections
Thursday, September 24th 3:30-4:15pm
Join us on Zoom
Self-care cultivates well-being, yet conversations about self-care and well-being are not the same for all of us. This program is intended as a space for students to engage in dialogue about the intersections of wellness, equity, and oppression. Tips for self-care and mental health resources will be shared. This program is collaboratively hosted by the Wellness Resource Center, Temple Student Government and IDEAL.
Sexual Health Trivia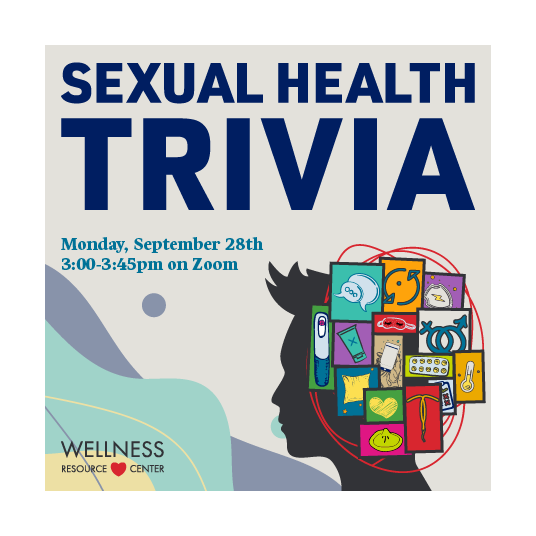 Monday, September 28th 3:00-3:45pm
Join us on Zoom
There's a lot to know about sexual health. Join us as we learn together through a fun game of trivia! 
Staying Present: Mindfulness for Managing Stress
Thursday, October 1st 3:30-4:15pm
Join us on Zoom
Learn how mindfulness and related skills can help manage stress and invite calm. Guided activities will be offered as an opportunity to practice these skills.
Cultivating Healthy Sexuality
Tuesday, October 6th 12:00-12:45pm
Join us on Zoom
College years often serve as a time for identity exploration. This workshop will cover a holistic view of the role sexuality plays in our lived experiences. STARS credit available!
QPR Suicide Prevention Gatekeeper Training
Thursday, October 8th 1:30-3:00pm
Join us on Zoom
Everyone has a role in preventing suicide. QPR is an evidence-based training designed to give students information about suicide, basic skills and confidence in talking to someone about suicide and how to refer friends and peers to the most appropriate resources for help. Please note that space is limited for this program. Participants should log on to Zoom a few minutes early, if possible, to secure a spot.
The Clothesline Project
Wednesday, October 14th & Thursday October 15th
Join us on Instagram
The Clothesline Project is typically an art display of t-shirts created by members of the campus community who have experienced trauma and abuse. This year, to cultivate a digital space for healing and support, we'll be hosting a two-day Clothesline Project on Instagram. Head to @BeWellTU for a template and more information.
Take Action, Take Care
Friday, October 16th 10:30-11:15am
Join us on Zoom
College life includes new experiences and situations that can impact well-being. Students will learn how to support community wellness through positive action. This program will provide students with information about the bystander effect, the difference between emergent and non-emergent situations, and strategies for taking action. Students will also practice applying these strategies to scenarios that focus on topics like mental health, body image, alcohol / drug use, sexual health and sexual assault. STARS credit available!
How To Support A Survivor Panel Discussion
Monday, October 19th 5:30-6:15pm
Join us on Zoom
Join us for a discussion that hopes to offer ways we can be there for peers who have experienced dating and intimate partner abuse and create positive change so that everyone can thrive in their relationships.
Rest Doesn't Need to Be Earned: Ways to Sleep Well in College
Wednesday, October 21st 2:00-2:45pm
Join us on Zoom
Sleep is vitally important for physical and mental well-being, yet it is often challenging to get enough and feel well-rested. This workshop will help students explore ways to create routines and get more restful sleep that can support their well-being and academic performance.
Creating Community of Care: A Panel Discussion on Community Health & Alcohol
Thursday, October 22nd 5:00-6:00pm
Join us on Zoom
Hear from different members of our campus community as we discuss alcohol's effect on the Temple experience, on-campus resources, and other ways we can support one another's well-being.
Owls Looks Out for Each Other
Friday, October 23rd 2:00-2:45pm
Join us on Zoom
Partying can be one part of the college experience. In this session, we will be discussing ways in which fellow owls can look out for one another if they choose to party. We will also be examining some ways that we can set ourselves up for a safe night out.
Staying Present: Mindfulness for Managing Stress
Tuesday, October 27th 6:00-6:30pm
Join us on Zoom
Learn how mindfulness and related skills can help manage stress and invite calm. Guided activities will be offered as an opportunity to practice these skills.
Writing for Self-Care & Social Change: A Virtual Writing Workshop
Wednesday, October 28th 12:00-12:45pm
Join us on Zoom
Care and creativity are important skills in the collective work of interpersonal violence prevention. This workshop will be a space to explore a few journaling or writing tools to help us find motivation and well-being. Attendees do not need to have a history or share experiences with interpersonal violence. 
We HEART Healthy Relationships
Thursday, October 29th 3:00-3:45pm
Join us on Zoom
Happiness in personal relationships can help us cope with challenges easier, feel less stressed, and even improve our physical health! This workshop will offer participants strategies for cultivating relationships that make them happy. Facilitators will offer simple ways to infuse wellness in communication and problem-solving. STARS credit available.
Save the Date!
Sexual Health Panel / Q& A- Monday, November 2nd 12:00-12:45pm
Showing Up Authentically on Dating Apps- Tuesday, November 3rd 3:00-3:15pm
Liberating Black Womxn's Sexuality- Thursday, November 5th 3:30-4:15pm
Alcohol & Community Impact- Monday, November 9th 11:00-11:30am
Owls Stop Stigma- Tuesday, November 10th 4:00-4:45pm
QPR Suicide Prevention Gatekeeper Training- Friday, November 13th 11:00am-12:30pm
How Can We UNLearn What We've Been Taught? Exploring Gender & Sexuality- Tuesday, November 17th 5:30-6:15pm
Staying Present: Mindfulness for Managing Stress- Wednesday, November 18th 2:00-2:45
World AIDS Day Chat with Camp DreamCatcher- Monday, November 30th 1:30-1:45pm
Sex Jeopardy- Monday, November 30th 4:00-4:45pm
Media Messages about Alcohol- Monday, December 7th 2:00-2:30pm
Strategies for In-The-Moment Stress Reduction- Friday, December 11th 1:00-1:15pm
Staying Present: Mindfulness for Managing Finals Stress- Monday, December 14th 4:00-4:30pm