Upcoming Events
Nourish to Flourish!
Check out pre-recorded offerings along the righthand side of this page. →
Explore ways to find balance, calm, and community with our upcoming opportunities! 
Use this link for Wellness Resource Center Zoom sessions [URL]
Please note that you must be logged into Zoom through your Temple provided account to participate. 
All are welcome. For questions or requests regarding access and accommodations, please contact TUWellness@temple.edu in advance of a program.
Stay connected and learn more about upcoming workshops and opportunities by following @BeWellTU on Twitter [URL], Instagram [URL], and Facebook [URL].
 
---

Summer 2022
SMART Goals and Substances
Tuesday, May 31st at 11:00 AM | Join us on Zoom! [URL]
Changing health behaviors can be challenging, especially when it comes to substances. This workshop provides participants with an overview of the Stages of Change model and how we can use SMART Goals to help us plan and keep track of our progress.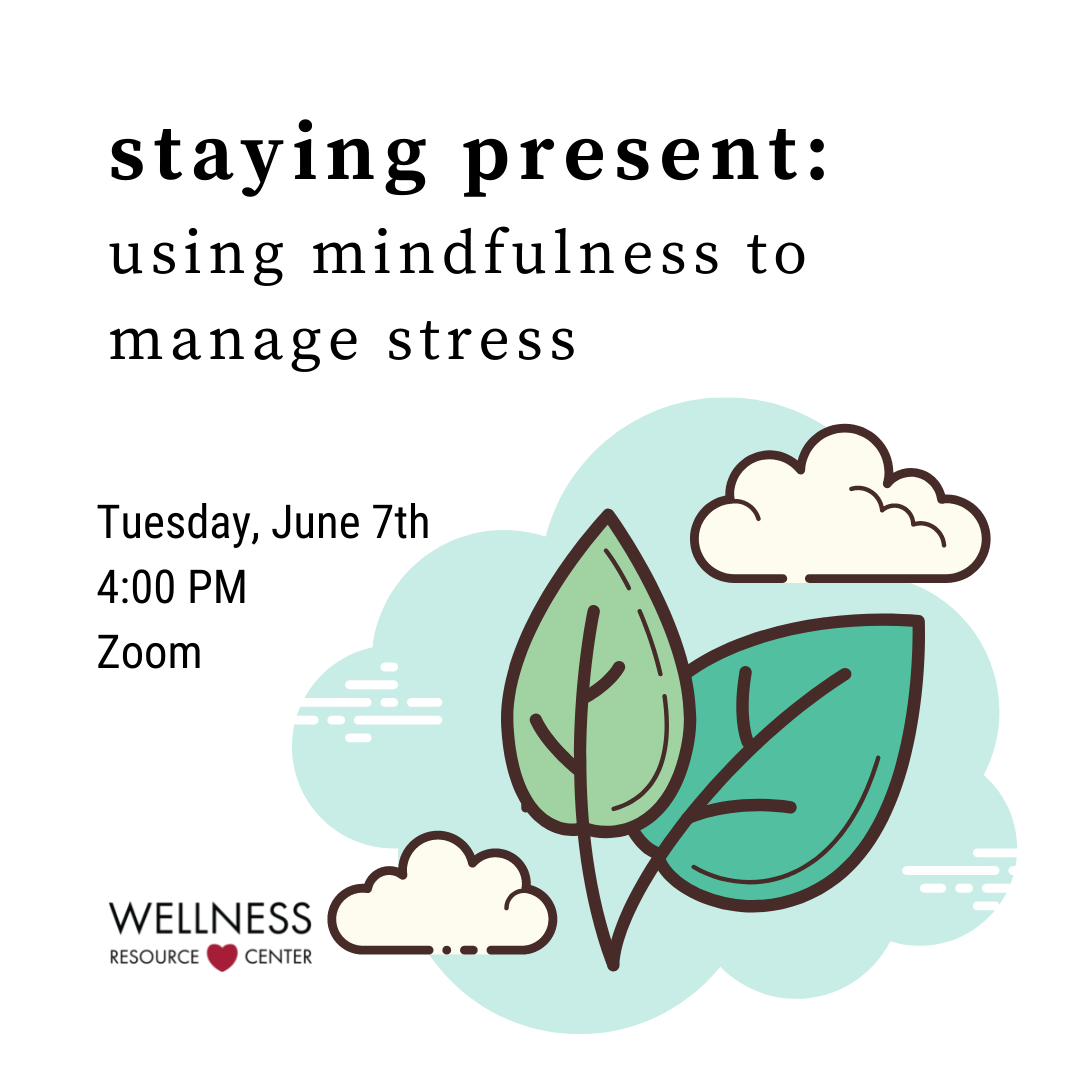 Staying Present: Using Mindfulness to Manage Stress
Tuesday, June 7th at 4:00 PM | Join us on Zoom! [URL]
Learn how mindfulness and related skills can help manage stress and invite calm. This program consists of an overview about mindfulness and a guided activity to practice these skills.

Beyond Yes & No: Building a Culture of Consent
Thursday, June 9th at 2:30 PM | Join us on Zoom! [URL]
How would we feel living in a world where all boundaries are honored? Where we could feel safe and affirmed? This workshop will explore how we can move past a transactional or "Yes / No" framework of consent and how we can begin to work toward a culture of consent.

Keep checking back for more offerings!
Be sure to follow us on social media for resources, information, and updates! @BeWellTU