Upcoming Events
The WRC hosts different events throughout the semester for members of the campus community to learn more and create connections.  Check out what's happening! 



February 2019
LoveTU
February 12th 8:00-9:30pm
Student Center Underground
Join us for a night of powerful performances by Temple students that highlights the self-love, resilience, and hope that has allowed folks to overcome hardship and trauma. LoveTU provides an inclusive platform for diverse stories to be told through song, dance, spoken word, art, and more.
Are you a student artist or student organization interested in performing?  Contact TUWellness@temple.edu for more information.
How to Treat Yourself with Kindness
February 27th 11:00am-12:00pm 
Student Center 217A
In honor of National Eating Disorders Awareness Week, this yoga-inspired workshop will explore gratitude and self-compassion (treating yourself like you would treat a good friend) as tools for self-acceptance through mindfulness, gentle movement, and discussion. The workshop will also identify ways to counteract societal norms related to body image. No equipment or experience necessary. All are welcome. Please RSVP on OwlConnect to reserve your spot!



March 2019
Wellness Day
March 19th 11:00am-2:00pm
Student Center 200BC
Join us for a day of therapy dogs, giveaways, healthy snacks and campus resources!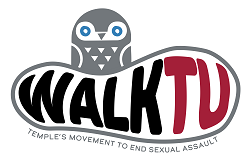 WalkTU
March 27th 11:30am-1:00pm
Bell Tower
This will be our third annual WalkTU! To kick off Sexual Assault Awareness Month, we'll be adding new activities and elements.  Check back soon for updates and registration information!

April 2019

Check back soon for more information on programming, events, and ways to get incolved this April!