Upcoming Events
Nourish to Flourish!
Interested in taking time for yourself to connect and grow over winter break? Check our our recorded offerings along the righthand side of this page. →
We have brief self-care programs, as well as important conversations with community organizations and Temple student leaders.
Stay connected and learn more about upcoming workshops and opportunities by following @BeWellTU on Twitter, Instagram, and Facebook.
 
---

Spring 2021
Explore ways to find balance, calm, and community with our upcoming virtual opportunities!
Use this link for Wellness Resource Center Zoom sessions
Please note that you must be logged into Zoom through your Temple provided account to participate. For questions regarding access and accommodation, please contact TUWellness@temple.edu in advance of the program.
January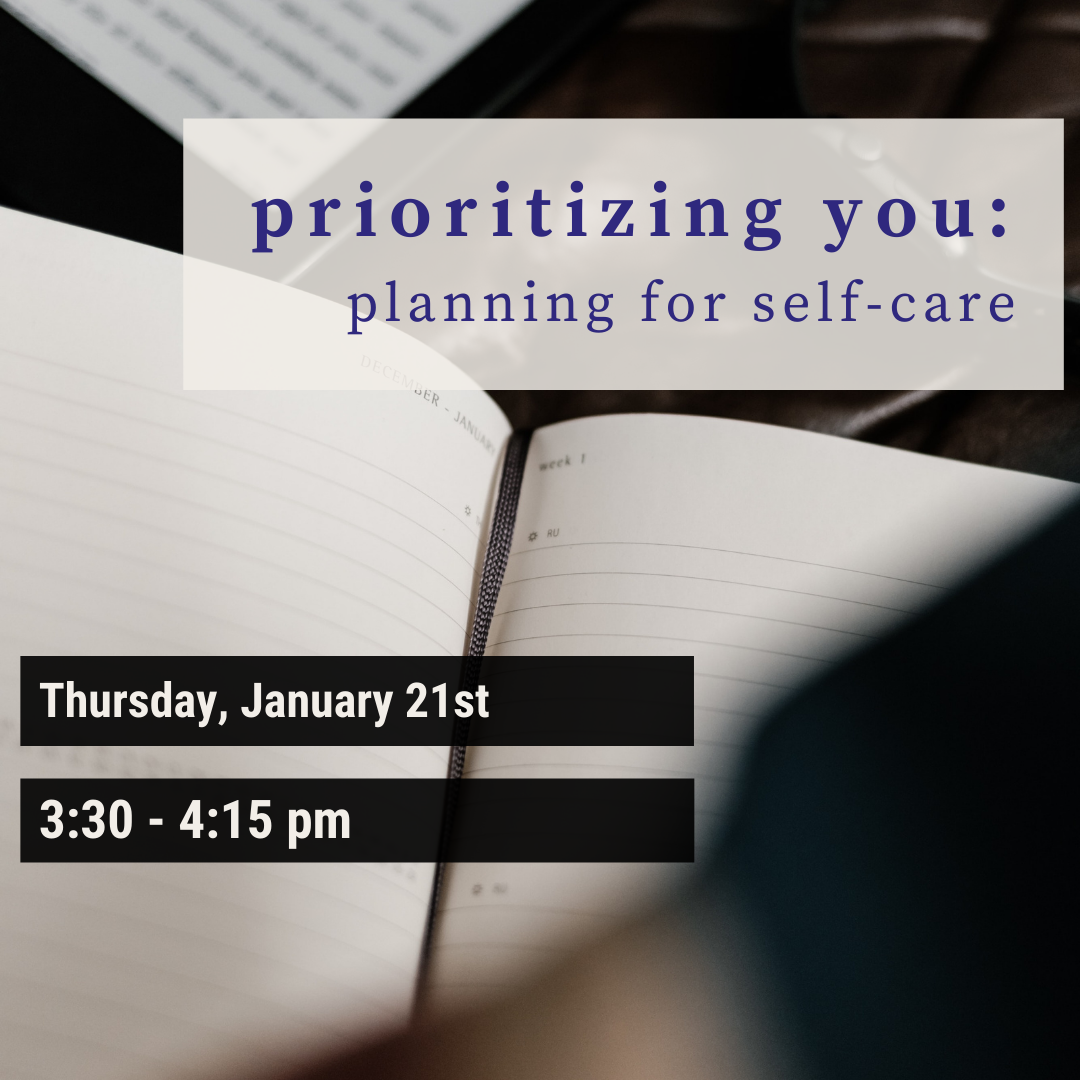 Prioritizing You: Planning for Self-Care
Thursday, January 21st 3:30-4:15pm
Join us on Zoom
Setting intentions and planning ahead for self-care can make it easier to follow through when things get busy. This workshop will provide space for students to reflect on their values and make their own self-care plan for the spring semester. A self-care planning guide will be provided.
Guided Mindfulness Practice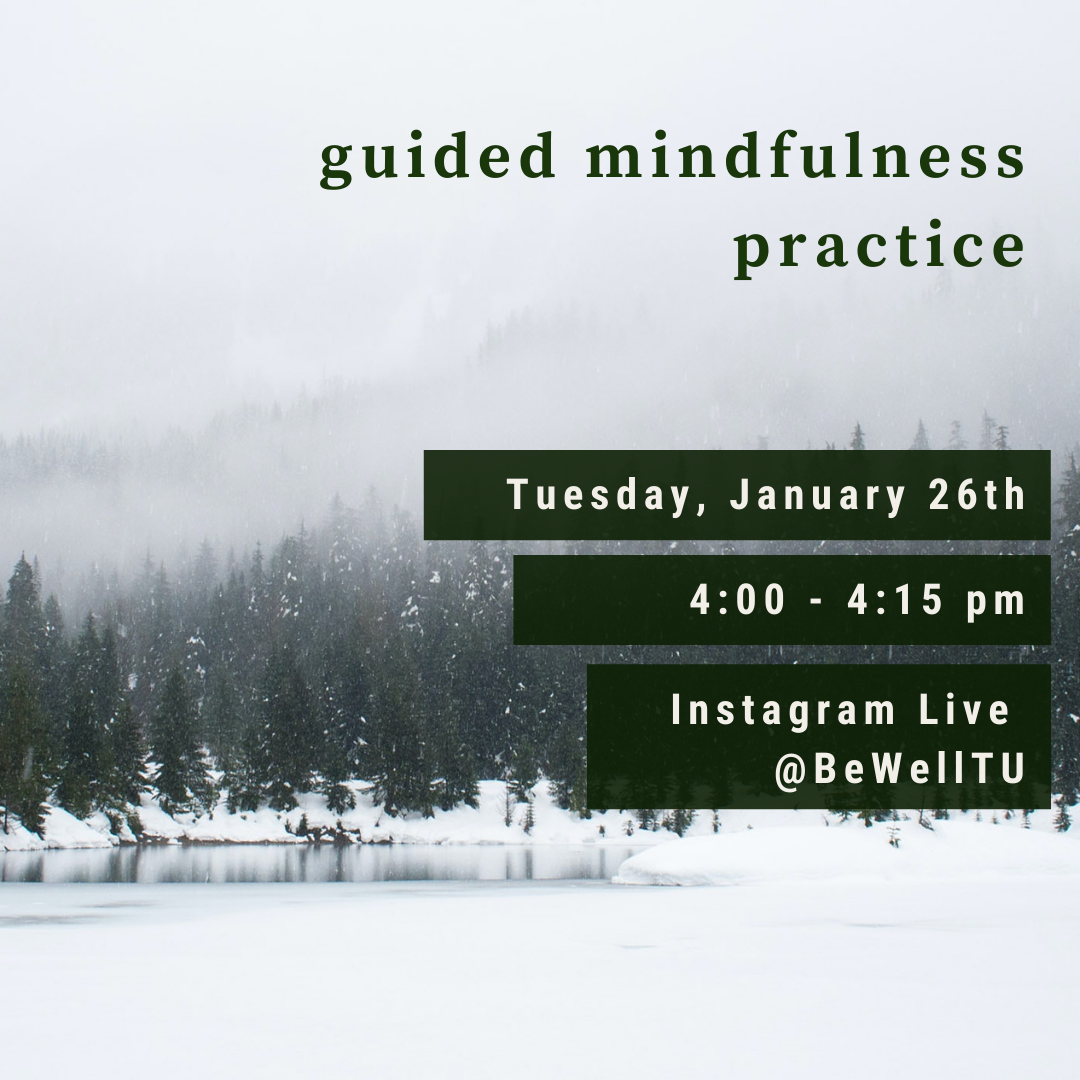 Tuesday, January 26th 4:00-4:15pm
Join us on Instagram Live
Start the week 2 with a quick guided mindfulness practice! Join us on Instagram live (@BeWellTU) for a 10-minute practice to invite calm.
February
Alcohol 101
Monday, February 1st 12:00-12:45pm
Join us on Zoom
Drinking alcohol is common among college students, and this program is designed to help students explore why they choose to (or not to) drink. Through an interactive session, students will learn about ways to keep themselves and their fellow Owls safe when alcohol is in the mix.
QPR Suicide Prevention Training
Thursday, February 4th 3:30-5:00pm
Join us on Zoom
Everyone has a role in preventing suicide. QPR is an evidence-based training designed to give students information about suicide, basic skills and confidence in talking to someone about suicide and how to refer friends and peers to the most appropriate resources for help. Please note that space is limited for this program. Participants should log on to Zoom a few minutes early, if possible, to secure a spot.
Owl About Stress
Friday, February 5th 1:00-1:45pm
Join us on Zoom
Reframe how you think about stress and learn about strategies for self-care! This program will offer a simple framework for understanding stress along with clear ways that students can focus on what's within their control.
Showing Up Authentically on Dating Apps
Monday, February 8th 4:00-4:15pm
Join us on Instagram Live
Online dating has become a common way for folks to initiate romantic connections. Whether in person or online, we can show up authentically to our dating experiences.
Let's Talk About Cannabis
Wednesday, February 10th 2:00-2:30pm
Join us on Zoom
There's a lot of information about cannabis out there! This session will focus on providing accurate information about cannabis and its long term effects.
LoveTU
Thursday, February 11th 7:00-8:00pm
Join us on Zoom
LoveTU is a night to celebrate love, hope, and compassion. Watch fellow Temple Owls perform uplifting song, dance, and spoken word.
Staying Present: Mindfulness to Manage Stress
Monday, February 15th 3:00-3:45pm
Join us on Zoom
Learn how mindfulness and related skills can help manage stress and invite calm. Guided activities will be offered as an opportunity to practice these skills. This program is offered monthly and consists of an overview of mindfulness principles followed by a new skill or practice to make each session unique.
Rose-Colored Glasses: Understanding red flags in relationships 
Tuesday, February 16th 1:00-1:45pm
Join us on Zoom
We learn about relationships from all sorts of sources and experiences. How can we move beyond the surface to pay attention to concerning behaviors and situations? This workshop will offer some possible "red flags" and ways we can advocate for safer relationships for all..
Cultivating Healthy Sexuality
Friday, February 19th 10:00-10:45am
Join us on Zoom
College years often serve as a time for identity exploration. This workshop will cover a holistic view of the role sexuality plays in our lived experiences.
Check back regularly for updates and details!