Upcoming Events
Fall 2020
Stay connected and learn more about upcoming workshops and opportunities by following @BeWellTU on Twitter, Instagram, and Facebook.
---
Explore ways to find balance, calm, and community with our upcoming virtual opportunities!
Use this link for Wellness Resource Center Zoom sessions
Please note that you must be logged into Zoom through your Temple provided account to participate. For questions regarding access and accommodation, please contact TUWellness@temple.edu in advance of the program.
World AIDS Day Chat with Camp DreamCatcher
Monday, November 30th 1:30-1:45pm
Join us on IG Live
World AIDS Day is Decemebr 1st. Join us as we chat with folks of Camp Dreamcatcher about the their work supporting youth impacted by HIV/AIDS and the significance of World AIDS Day.
Sex Jeopardy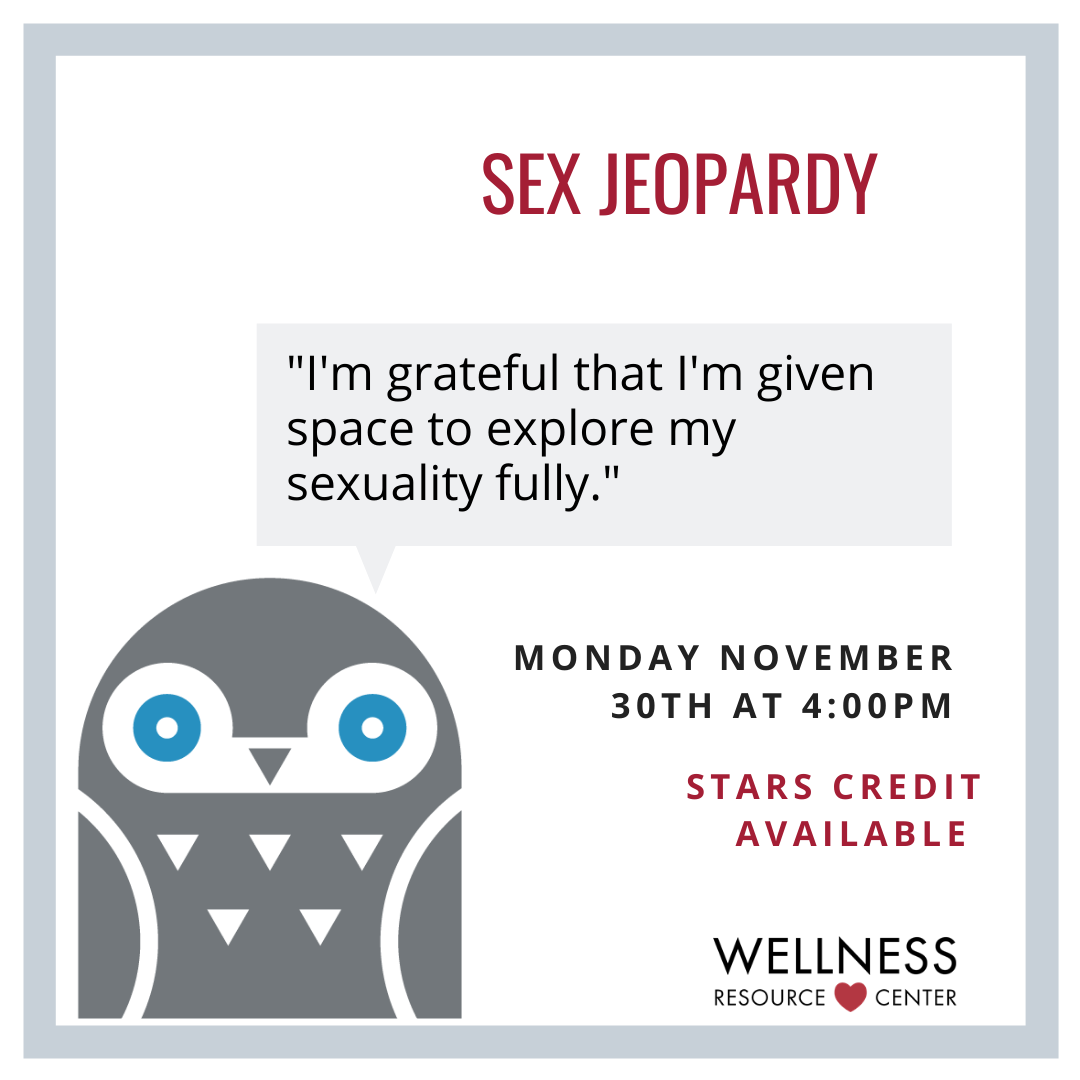 Monday, November 30th 4:00-4:45pm
Join us on Zoom
Play a fun game of Jeopardy that provides information about sexual health myths, STI/STD facts, and healthy sexuality. This program encourages comfort and openness when talking about healthy sexuality.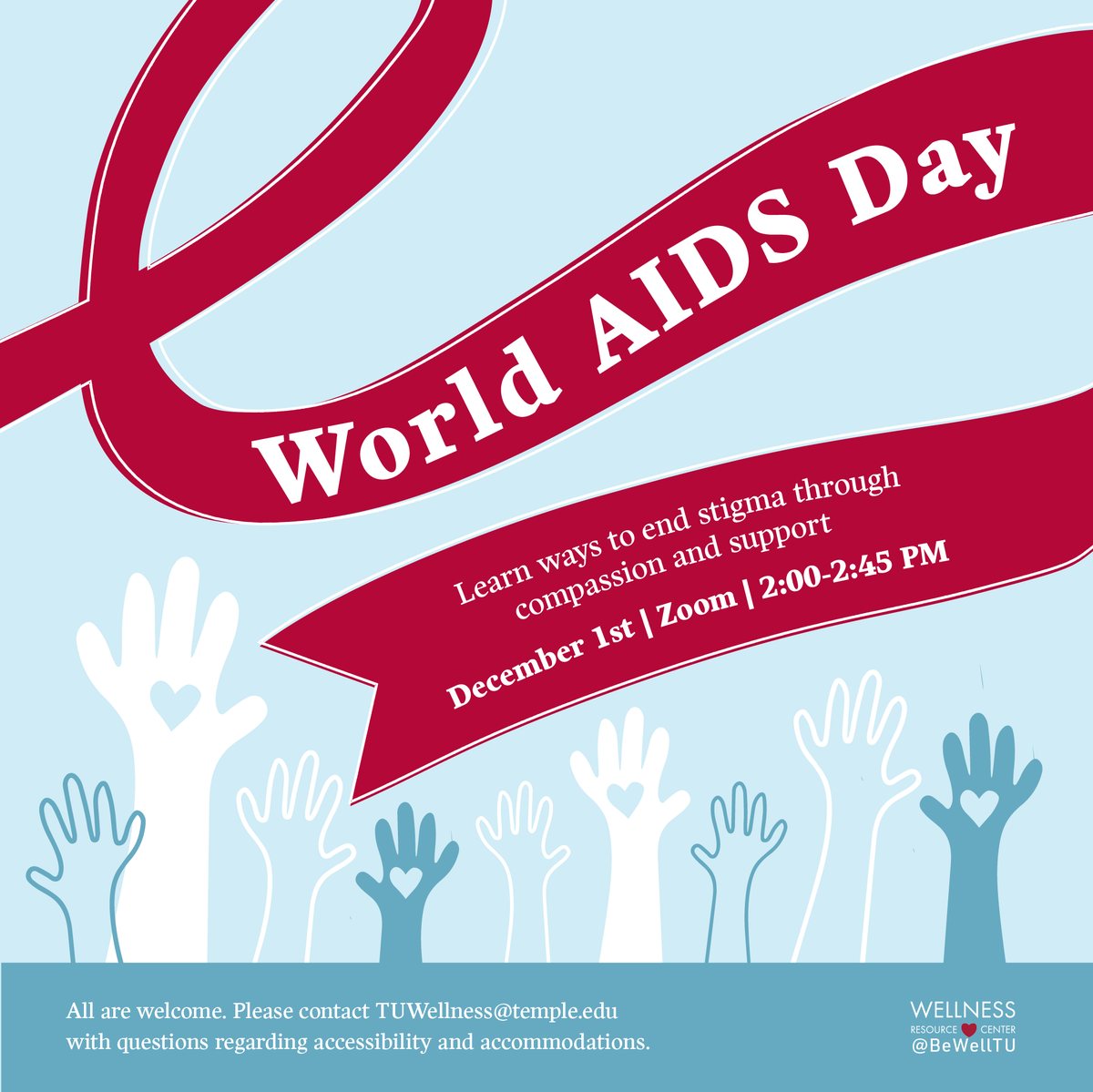 World AIDS Day - Ending Stigma with Compassion and Support
Tuesday, December 1st 2:00-2:45pm
Join us on Zoom
World AIDS Day is December 1st. Join us for a dialogue about the ways we can all contribute to the end of HIV/AIDS stigma through compassion and support.
Art as Wellness: Bringing Mindfulness to Creative Activities
Thursday, December 3rd 3:00-3:45pm
Join us on Zoom
Art can help us feel grounded in the present moment. In this workshop, students will learn about mindfulness and practice mindful awareness through a guided activity. No special supplies needed - just a pen and paper! This workshop is a collaboration between the WRC and the Tyler School of Art and Architecture's Art Therapy Department.
Media Messages about Alcohol
Monday, December 7th 2:00-2:30pm
Join us on Zoom
Media is a major influence in our society. In this session, we will be discussing the importance of critically analyzing media as well as offer strategies for consciously consuming media.
Pause with Pups: A Virtual Therapy Dog Event
Tuesday, December 8th 3:00-4:00pm
Join us on Zoom
For many people, dogs (and other pets!) offer comfort and relaxation. Join us for a virtual meet-and-greet experience with several support pups and their owners. Drop in to our Zoom any time from 3:00 - 4:00pm on Tuesday, December 8th.
Strategies for In-The-Moment Stress Reduction
Friday, December 11th 1:00-1:15pm
Join us on IG Live
Self-care can help us build capacity to tolerate stress, but feeling a wide range of emotions is still part of the human experience. In this Instagram Live, we'll share practical techniques that can help you get through moments of intense emotions or stress.
Staying Present: Mindfulness for Managing Finals Stress
Monday, December 14th 4:00-4:30pm
Join us on Zoom
Learn how mindfulness and related skills can help manage stress and invite calm, especially during finals season. Guided activities will be offered as an opportunity to practice these skills.